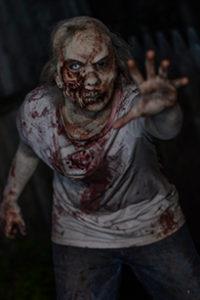 What lies within the realm of Reaper's Forest? Do you have what it takes to brave a haunted hayride, a dark forest, a pitch-black maze, and the zombie apocalypse? Venture into Reaper's Revenge Haunted Attraction in Scranton, PA, a 60-acre scream park featuring four terrifying haunted attractions and more than 90 minutes of scare time!Haunted Attractions at Reaper's Revenge

Board the Haunted Hayride to begin your journey into the woods, but don't get too comfortable – you'll have to leave the safety of the wagon to enter the Lost Carnival, filled with the souls of sideshow freaks and deranged midway clowns. Make your way through the Tunnel of Love with a serious haunted house experience and venture next into Pitch Black, an indoor maze where you are robbed of your sight. Use your sixth sense to make it to the end, but be prepared, because the outside world isn't the same as when you first entered. Out in the moonlit post-apocalyptic wasteland is Sector 13, a horrifying maze populated by the ones who weren't as lucky as you.

Pennsylvania's Reaper's Revenge is a terrifying treat for locals, and close enough for a visit from New York or New Jersey. Voted America's Best Haunted Attraction, Reaper's Revenge is four haunts in one, combining a haunted hayride, dark forest walkthrough, pitch-black indoor walkthrough, and zombie maze. Test your fate at Reaper's Revenge Haunted Attraction – the Scream Park that is making waves in the haunt industry!
Check back as the Halloween season approaches for schedule and tickets!
Share Your Review
Have you experienced Reapers Revenge?
If so, then please considering taking a moment to share your review below.